Free to enter the Awards are open to all UK employers who can show how investing in training has directly improved their people and organisational performance.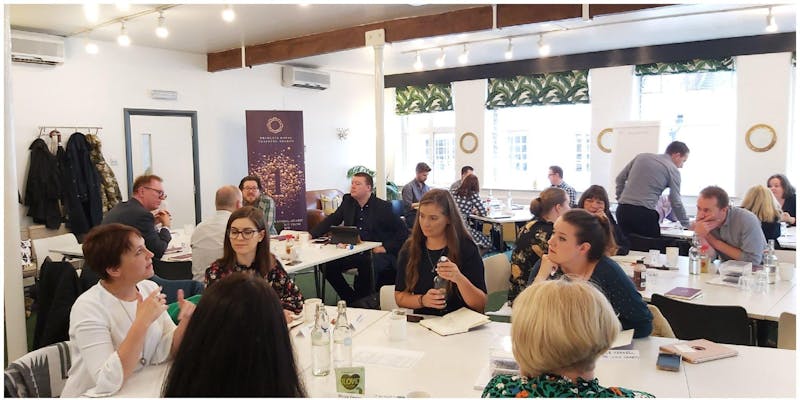 Join one of our workshops or webinars for help with your application and to hear from Alumni and Assessors and network with other applicants.

44 organisations achieved the standard for programmes including health & wellbeing, leadership, preventative training and apprenticeships.
The Princess Royal Training Awards
Training is at the core of every successful business. It allows you to recruit better staff, retain quality colleagues and future proof your talent pipeline.
It's the investment that offers a return time and time again.
We are delighted to offer this prestigious award, in line with the City & Guilds Group values, to employers in the UK who can prove that their outstanding training and skills development programmes have resulted in exceptional commercial benefits for their business.
Honouring and celebrating employers who believe and can prove that investing in training their staff has resulted in exceptional commercial benefits for their business.
The result is an award that highlights the range and quality of training that exists in industry.
To be considered for a Princess Royal Training Award you need to fill in an application and provide evidence of how training has positively impacted on your business.
Find out how to structure your application and what types of evidence to supply.
Be inspired by the work of a community of professionals who invest in their most valuable asset – their people.
See more details about the organisations who received the standard as well as in-depth case studies from previous winners.
What are the key trends in HR and L&D, and who is having an impact in L&D?
Insight and analysis from the Chief Assessor Paul Robertson
Read the interactive report
Recipient stories
The awards are open to all organisations in the UK regardless of size and sector and are free to enter.
More than one application may be submitted for an organisation if it has introduced multiple training initiatives. Each training initiative must have resulted in different benefits for the business.
Register your interest
Register your interest and we will be in touch once the applications open.
The benefits of gaining a Princess Royal Training Award for a small business like us have been massive. It's given us a sense of kudos and shown that we have longevity within the business and it's given us a greater gravitas within the industry.
We are so delighted to be awarded a Princess Royal Training Award for our UK Apprenticeship programme. The assessment process was rigorous, yet rewarding as the assessment team really took the time to understand our business as well as the value our apprenticeships have brought.
Help with your application
Our free workshops offer practical help and support to anyone thinking of applying for a Princess Royal Training Award and is a great way to meet other applicants.
We run a series of webinars to help applicants with their applications. Each webinar features members of our team as well as an assessor who is on hand to answer questions.
We are really pleased to have been recognised with the Princess Royal Training Award for our flagship 'Basic Training Scheme' known affectionately as BTS. Learning and development is vital to remaining agile in a highly competitive market. Hilti invests over £1.3 million each year in training employees to support our Champion 2020 growth strategy.
Part of the success of Green Lighting's training programme is the flexibility it offers to employees. The organisation tailors CPD plans to expand employee's skills, developing expertise that will benefit them in their existing roles and allowing them to diversify into another areas of the business based on individual's longer-term career ambitions.
The Awards on social media